Thursday, September 23, 2010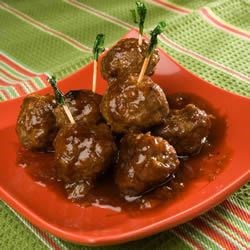 Ingredients:
1 pound lean ground beef
1 1/2 teaspoons hot pepper sauce
2 tablespoons Cajun seasoning
1 tablespoon Worcestershire sauce
1 tablespoon dried Parsley
1/4 cup finely chopped onion
1/4 cup fresh bread crumbs
1/4 cup milk
1 egg
1/2 cup barbecue sauce
1/2 cup peach preserves
Directions:
1. Preheat oven to 350 degrees and lightly grease a medium baking sheet.
2. In large bowl, mix thoroughly the ground beef, hot pepper sauce, Cajun season, Worcestershire sauce, parsley, onion, bread crumbs, milk and egg.
3. Form golf-sized balls with mixture and place on greased baking sheet.
4. Bake for 30-40 minutes
5. In a small bowl, combine barbecue sauce and peach preserves.
6. Place meatballs in serving dish, cover with sauce mixture and toss to coat.
4 Servings.