Sunday, September 5, 2010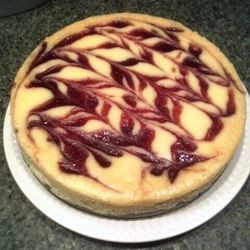 You will need:
1 cup Oreo® cookie crumbs
3 tablespoons white sugar
1/4 cup butter, melted
1 (10 oz.) package of frozen strawberries
2 teaspoons of white sugar
2 teaspoons cornstarch
1/2 cup water
2 cups white chocolate chips
1/2 cup half and half cream
3 (8 oz) packages of cream cheese, softened
1/2 cup white sugar
3 eggs
1 teaspoon vanilla extract
Directions:
1. In medium bowl mix cookie crumbs, 3 tablespoon sugar, and melted butter.
2. Press mixture into bottom of 9 inch springform pan.
3. In saucepan, combine raspberries, 2 tablespoon sugar, cornstarch, and water.
4. Bring to boil an continue to boil for another 5 minutes or until sauce is thickened.
5. Strain sauce to remove seeds.
6. Pre-heat oven to 325º.
7. Melt white chocolate chips in metal bowl over simmering water with half and half, stir occasionally until smooth.
8. In large bowl, mix together cream cheese and 1/2 cup sugar until smooth, beat in eggs individually and then blend in vanilla and white chocolate.
9. Pour half of the batter over the crust then spoon 3 tablespoons raspberry sauce over the batter. Continue by pouring remaining batter into the pan and spooning another 3 teaspoons of raspberry sauce on top.
10. Swirl batter with tip of knife or toothpick to create a marble effect.
11. Bake for 55 to 60 minutes or until filling is set.
12. Cool and cover with plastic wrap and refrigerate for 8 hours.
13. Remove from pan and serve with remaining raspberry sauce.
16 servings.
412 Calories
28.3g of fat
101 mg Cholesterol